The House of Progress is an institution founded by Red Riding Hood after hearing about the House of Congress in Alex' and Conner's world. It has a representative of each neighborhood in the Red Riding Hood Kingdom to help Queen Red make decisions that concern the kingdom. It is located in the Red Riding Hood Kingdom, across from the castle.
"That was every decision is a well-rounded one and I can't be solely blamed for anything that goes wrong. But Congress sounded so dreary and bleak; I wanted my house of representatives to sound promising and uplifting. I thought Queen Red Riding Hood's House of Progress had such a better ring to it."[1]
Description
It looks like a miniature version of the U.S Capitol. The only differences are its façade, which is entirely painted in red, and the dome, which has been replaced by a giant square basket.
Statues of Queen Red line the steps all the way up to the doorway and the entrance hall is decorated with lots of paintings of her. In the center of the entrance hall, there's a colossal statue: Queen Red sitting on her throne, which looks like the Lincoln Memorial.[2]
Members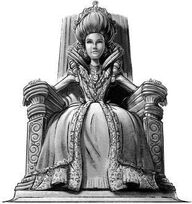 Apart from Red Riding Hood herself and Charlie, the House of Progress has 9 members:
When Red was dethroned and evicted, her successor Little Bo Peep kept the House of Progress as part of her new Republic, but fills it with new members, claiming that the former members did not actually represent the village.[3]
Trivia
The new characters, introduced as members of the House of Progress, are all figures from nursery rhymes rather than fairy tales.
References
Community content is available under
CC-BY-SA
unless otherwise noted.